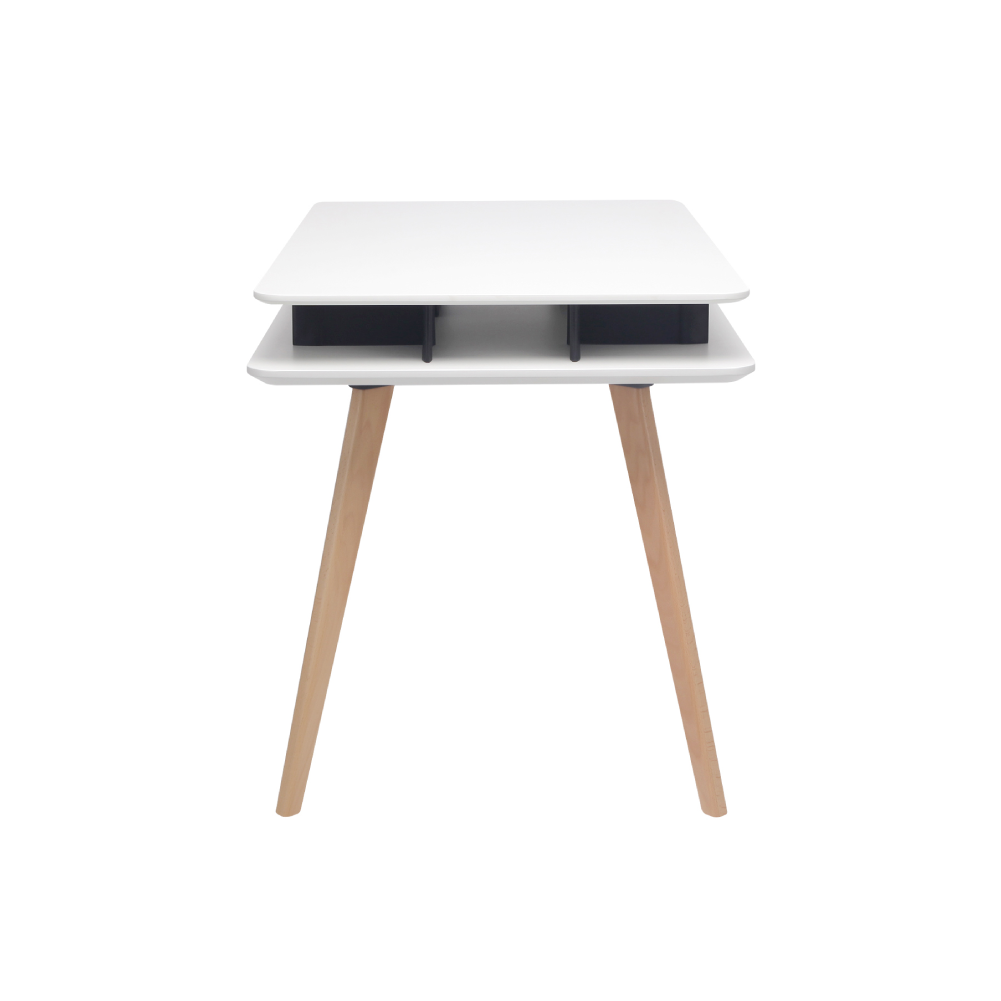 TABLE – SPIDER
Modern, practical, innovative and functional, the solution for furnishing your home or office.
Thanks to its special shelf structure, this console desk table is also perfect for those who need to work from home.
Natural touch and elegant lines are the essence of the Spider console table, comfortable and spacious thanks to the second shelf with black dividers. This piece of furniture will integrate easily into a study, living room, bedroom or any other room in the home and beyond.
DESIGN PRODUCT
It was conceived and designed by Designer Chen Zhiyi, Design Director of Morikawa Furniture. Zhiyi won a prestigious award at the Shanghai International Furniture Exhibition and plays an important role in the global interior design scene.
'Simplicity, fashion and environmental protection' is the philosophy behind his work.
QUALITY MATERIALS
The choice of materials and attention to detail make the Spider console desk table a piece of furniture with simple lines and high quality. The legs are made of solid beech wood with a natural finish, the tops of white MDF and the joint between the two tops of black polypropylene.
PRODUCT DIMENSIONS
The Spider console desk table is the perfect solution if you are looking for a table that optimises space thanks to its dimensions that also make it suitable in the home for smart working or as a computer table.
The product measures:
– 120 cm in length
– 70 cm deep
– 75 cm high
CARE AND MAINTENANCE:
Please test the detergents for compatibility on a non-visible area first. Never use detergents or polishes with abrasive or degreasing particles. Always wipe with a damp cloth and dry.
Choose form of payment
Payment via Paypal, Credit Card, Cash or Bancomat (on site) and Cash on Delivery
Easy and carefree return
In case of problems, we organise pick-up directly at your address. (More details).
Manufacturer's warranty and spare parts
All our products come with our guarantee. For many products we guarantee spare parts for the same period.
Magbo Marketplace New Invite System
Discover the new invite system for Magbo Marketplace with advanced functionality and section access.
Get your hands on the latest invitation codes including (8ZKX3KTXLK), (XZPZJWVYY0), and (4DO9PEC66T)
Explore the newly opened "SEO-links" section and purchase a backlink for just $0.1.
Enjoy the benefits of the updated and reusable invitation codes for Magbo Marketplace.